TourBuilder supports auto-alignment using image recognition. This tool can be used to make quick connections and save time building your tours.
Turning the Auto-Align Tool On and Off
By default, the Auto-Align Tool is turned on in the "Build tour" step. You will notice it on the right side. When "AUTO ALIGN" is checked, the tool is on. To turn it off, simply uncheck the box. This means you'll have to align your connections manually.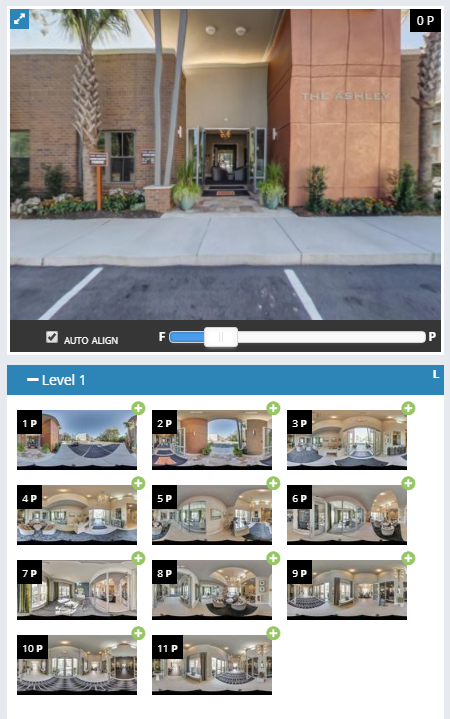 Aligning Your Images
The Auto-Align Tool uses image recognition to determine the best alignment.
When you first begin building your tour, be sure to set the center heading (North) of your tour. From there, each image will follow that center heading. To do this, rotate your first image that you add the way you would like it to face. Then click the green "set center heading" button at the top.
Next, find your connecting image in the accordion on the right. Click directly on the image. You can rotate it in the preview above. Clicking the green plus (+) icon in the top right corner of your image will begin the auto-align process and create a connection between your two images.

For a more precise alignment, you can slide the auto-alignment slider closer to the "P." For a faster alignment, move the slider closer to the "F." The faster the alignment, the less precise it may be. Moving the slider closer to the "P" looks at your connecting image with greater depth and detail.