It is important to understand constellations in TourBuilder before you begin building.
What is a constellation? Constellations are used to map out your virtual tour on Google Maps. Each scene is a constellation point and each point is connected to create a fluid walk-through.
Constellations have several functions that we recommend familiarizing yourself with to connect your scenes. You'll notice a menu in the top right corner of your constellation map with some helpful functions: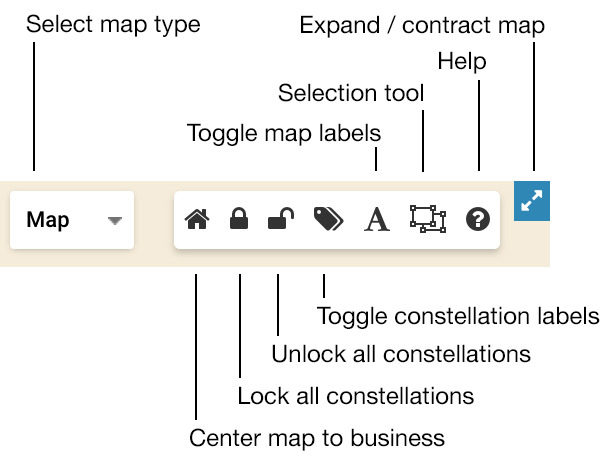 You'll notice the ability to toggle image labels, lock and unlock all connections at once, center your constellation to the business pin, select your entire or partial map, and more.
Below are some key functions with constellations we recommend familiarizing yourself with. These will come handy while building your tour.
A red line signifies a locked connection.
Left click the connection to unlock it.

A blue line signifies an unlocked connection.
Left click to lock it.

To delete a connection from your constellation,
right click the connection.

Left click on a point and drag
to move an entire locked constellation.

Hover over unconnected constellation to show dotted line. Left click the dotted line to make a connection.

Left click the rotate icon and drag to rotate
active constellation and its locked connections.

Left click a constellation point to navigate to that scene.
If your constellation functions are not working...
Your constellation functions may not work if you have clicked away from the map. Please click on the map to activate it before attempting these constellation functions. If you are still experiencing problems, please save and refresh your browser.
Need help with these functions while building your tour?
Click Need Help above the constellation map to display a help guide.