The Share button brings up a modal (tiny window) in the middle of the screen with ways to share the tour.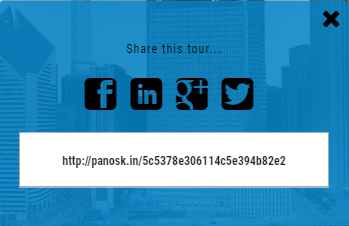 You can edit what displays when you click the share button by opening your tour, going to the edit tab, opening the left menu, and clicking on Share to open the Share button settings
Things you can change:
Message

: You can change the message displayed by typing a message in the "text displayed in modal prompt" field. [Yellow boxes in screenshots below]

Social Media Icons

: You can choose which social media share buttons to include by unchecking the ones you do not want to show up. [Blue boxes in screenshots below]

Custom URL

: If you want to use a custom share URL, you can do this by selecting "Share custom URL" instead of "Share tour" and then populating the URL where you embedded the tour. [Green boxes in screenshots below]

You can create a page on your website for the tour and then grab the URL of that page and use it to share with your clients.